IMPORTANT ADVICE FOR TUESDAY, 12 NOVEMBER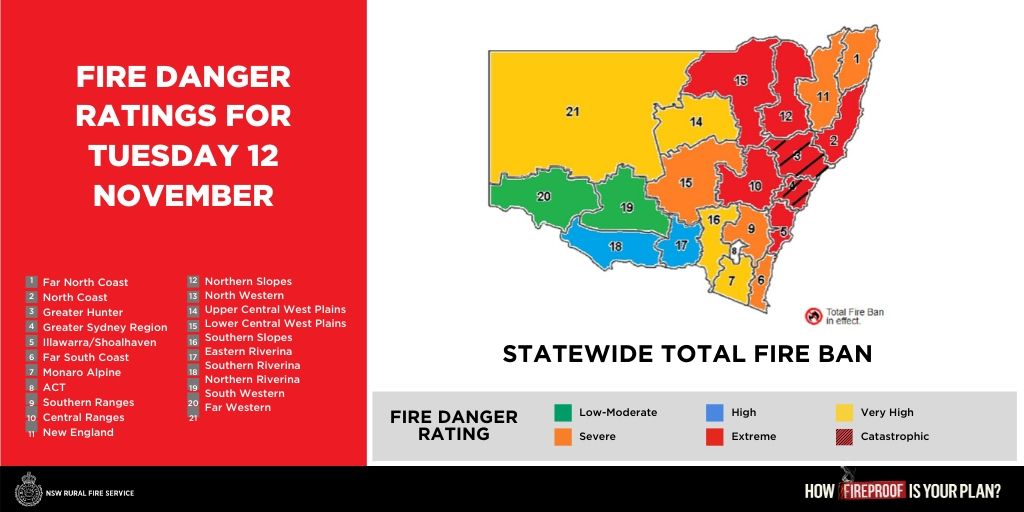 Off the back of a weekend of unprecedented bushfires, large regions of NSW and QLD now face catastrophic fire conditions tomorrow.
TOTAL FIRE BAN IN EFFECT.
If your area is under threat of bushfire, or potential fire, please keep the following in mind:
DO NOT put your life at risk to save Adventist church-owned property from fire – please let the Firefighters handle that.
STAY INFORMED – Listen to the advice of your local Fire Services – keep informed via social media, news and radio – we strongly suggest you download the NSW Fires Near Me and/or QLD Fires apps and set up a list of 'Watch Zones' so that you can be notified of any nearby threat. Aim to keep yourself and your people safe.
EMPLOYERS – Please support your staff on Tuesday if their homes are within the areas declared as facing 'Catastrophic' conditions. This may mean allowing them the day off or to leave work early.
NOTIFY RMS – If Adventist Church-owned property is affected by bushfire, please notify RMS by calling 02 9847 3375.
Finally, we acknowledge our Adventist churches, schools, ADRA and faithful church members offering real assistance to the victims of fire. We know you're opening your doors to your communities and we give you our heartfelt praise and appreciation. If your site is offering temporary accommodation, and you have any questions or concerns about that, please do reach out to RMS.
We remain highly concerned for all under threat. We join you in praying vigilantly.
On behalf or Risk Management Service, take care and stay safe.