Safety Tip – Take the trolley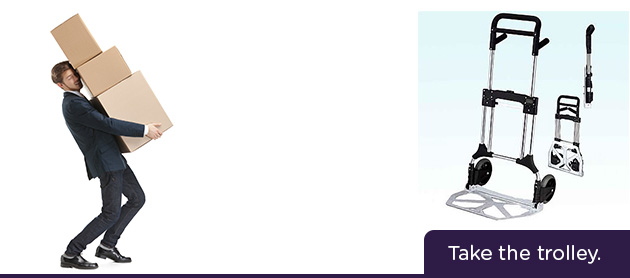 Do you run events? Do you carry boxes of stuff from your office to your car to another venue? Do you set up display booths? Then a folding hand trolley could save you time and a trip to the chiropractor.
From time to time the RMS team is involved in conferences, events or camp meetings. There's always a collective groan at the thought of moving and carrying our large display booth and all the other paraphernalia that goes with it. Recently, while delegating the heavy lifting tasks someone had a brilliant idea…
Buy a portable folding hand trolley!
For under AUD$100 this clever device folds down, is very lightweight and fits in a small car boot without even breaking a sweat…or a heel. We think this one might even eliminate the good old human conveyor belt!
Remember, even a trolley has its risks so it is always a good idea to stop and think before you move something…and always read the manufacturer's instructions.
If you want more information about the trolley we got for our office, here's a link to the website. It comes in a number of sizes and the one we bought has a maximum load of 100kgs.