Staying warm this winter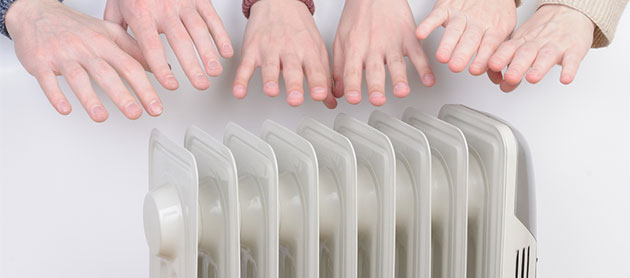 With the annual winter chill taking hold and more cooler months ahead, selecting the right form of heating becomes a priority. However with the myriad of different types and models to choose from, the efficiency and safe operation of each device needs to be considered – from portable electric and gas heaters to fixed units (including reverse cycle air conditioners).
Portable heaters
Portable heaters often carry the greatest risk to people and property. Any type of portable heater can start a fire or cause injury, so being careful and staying alert all the time is important. Below are a few tips for you to consider before buying or using a portable heater.
Electric Heaters

Radiant bar heaters pose a higher fire and safety risk than most other types of heaters so we recommend deleting them from your shopping list and replacing any that you currently have with a safer heating option.

Keep all heaters away from drapes and furniture.

Position the flexible power cable so that it will not be tripped over, go under doors or other places where the insulation could get damaged. Remember to also keep the lead away from the radiant heat of the unit.

Position your heater on the floor and avoid moving it while it is switched on.

Buy a quality heater from a reputable manufacturer that meets relevant Australian and New Zealand standards.

Avoid using power boards or extension leads to connect the heater.

Do not control the heater with timers.

Keep the heater clean from dust and regularly check that the power cable is not damaged.

Unplug the heater when not in use.
Gas Heaters

Gas heaters require the same safety precautions as electric heaters, but in addition you have to mindful of toxic gases such as Formaldehyde, Carbon Monoxide and Nitrogen Dioxide – particularly from un-flued units. For this reason these types of heaters should only be used in well ventilated, large rooms. Unsurprisingly, outdoor gas heaters are designed for outdoor use and should not be used indoors. Gas heaters should be tested and serviced regularly by a qualified and registered service agent to ensure they are safe to use.
So for a safer and more energy efficient building, consider the following:
Oil-filled column heaters are one of the safest portable heating options, particularly if there are young children around.

Never leave children alone with a heater.

Don't leave your heater on when you're not inside the room. Even if you're "just stepping outside", turn it off.

Double check that all heaters are turned off at the end of the day.

Consider investing in ceiling insulation, underfloor heating, or switching to reverse cycle air-conditioners.

Seal up draughty windows and install draught stoppers under doors

Put rugs on the floor and use window drapes to reduce heat loss.
If you would like further information on safe heating, please
contact us
.