The Door-knocking Dilemma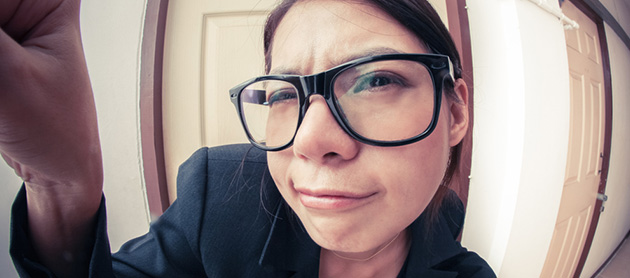 "…How can they believe in him if they have never heard about him? And how can they hear about him unless someone tells them? And how will anyone go and tell them without being sent? That is why the Scriptures say, "How beautiful are the feet of messengers who bring good news!" (Romans 10:14-15)
How do we protect those messengers, particularly those engaged in door-knocking? Maybe they should just stay in their homes, offices or churches, or better yet the Church could develop a 'no door-knocking' policy!
The Church is great at policy making. But, what good would that do? How do we achieve mission if not by going out into the world? Though wilfully taken out of context, John F. Kennedy's advice that there are "risks and costs to action but they are far less than the long-range risks of comfortable inaction" is true. If we don't take risks as a Church we cannot achieve our mission. Evangelism is a risk. Healthcare is a risk. Education, risk. Do we stop doing these things for fear of the risks involved? Who would really be 'comfortable' with that?
Comfortable inaction makes RMS very uncomfortable indeed. We most certainly do want our messengers to share the Good News, and naturally we want to help protect them from danger. It is a balancing act but we believe that door-knocking is a cornerstone activity of a vibrant Adventist movement, it can bless our community, and it can be done sensibly and safely.
To limit the risk of danger to our members and their children, here are some ideas to ensure safer door-knocking practice:
A few days before the planned door-knocking activity, letterbox drop the neighbourhood with a friendly and informative flyer that notifies households of when you'll be knocking, and why.
On the day, ensure children are accompanied by a responsible adult or parent and encourage participants to cease door-knocking well before the sun sets.
Before entering a property, assess the risk. Are the fences high? Is the gate closed? Is the grass overgrown? Are there dogs? Is the entrance hidden from sight? Be careful to protect children by not allowing them to enter "red-flag" properties such as this.
Respect properties signposted as "Do not knock" or "No Salespeople" or similar.
Encourage all participants to wear comfortable shoes and weather-appropriate clothing.
Always be polite, apologise for the interruption, and say thank you whether or not the response is positive.
And, if you are fundraising for ADRA you must be approved to do so by ADRA and follow all of their policies and procedures for fundraising activities.
So, whether it is to collect donations of food or cash, or simply to promote and connect with the local community 'door-knocking' is a risk worth taking for it can bring people to Jesus. Thank you for your part in ensuring the longevity of this type of ministry by keeping our messengers safe.